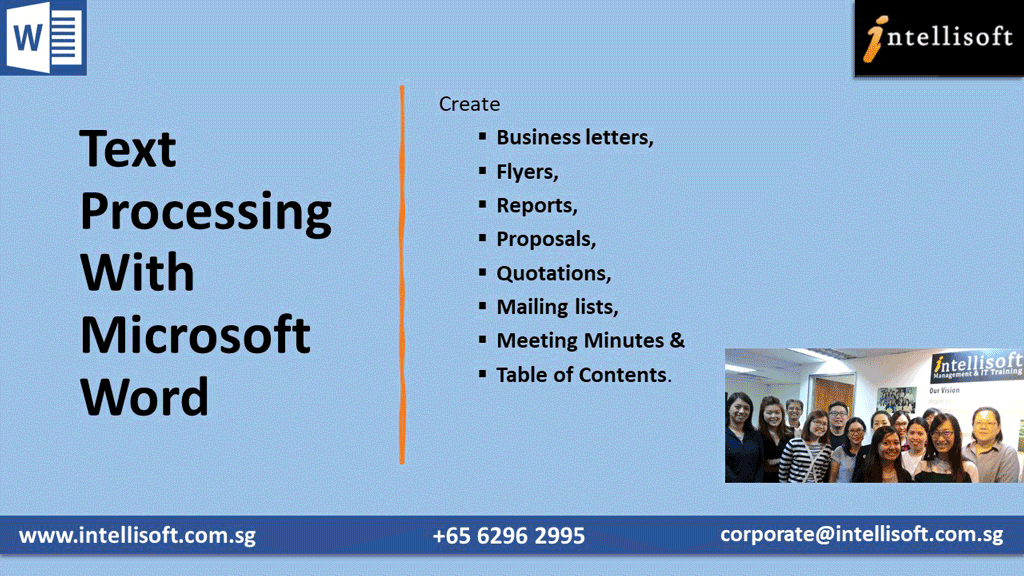 Microsoft Word 2016 Public Classes at Intellisoft Training Rooms or Corporate In-house Training at your office.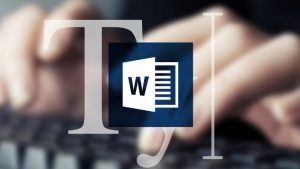 Course Overview For Basic-Intermediate Word Training
Microsoft Word 2016 is simple and easy to use Office Application, which improves your productivity and efficiency in creating professional documents, proposals, quotations, and reports.
You can send customized letters and memos to hundreds ofg people using the Mail Merge Feature alone, which is pretty awesome. And we teach it in our practical Word Training class.
It is very easy to pick up, and you can learn the simple tips and tricks in Word 2016, which make simple to complex tasks easy, with our step-by-step, practical, and hands-on teaching methodology.
Course Duration: 2 Full Days to Learn For Microsoft Word 2016 – Basic-Intermediate Level
Course Outline
Course Objectives
Pre-Requisites
Target Audience
Course Outline
Module 1: Using the Word Application
• Working with Word Documents
• Open, close a word processing application
• Switch between open documents
• Enhancing Productivity
• Set user name, default folder to open &/ save the document
• Learn to use Help functions, zoom tools
• Restore and minimize the ribbon
Module 2: Document Creation
• Switch between page view modes
• Enter text, insert symbols in a new document
• Select, Edit Display, hide non -printing formatting marks
• Select character, word, line, sentence, paragraph, entire body text
• Edit all content using Find/Replace function
• Edit a specific word /phrase Copy/ move text within /between open documents
• Delete text, undo/ redo function
Module 3: Formatting a Document
• Text Font: sizes, bold, italic, underline, colors, subscript, superscript, case change, and automatic hyphenation
• Paragraphs: Create, merge, insert, remove line break in a paragraph
• Apply styles to an existing character/paragraph style
• Learn to use copy format tool
Module 4: Objects in a Word Document
• Table Creation: Create a new table ready for data insertion.
• Edit any given data in a table
• Select rows, columns, cells, entire table Insert, delete data from rows and columns
• Table Formatting: Modify column width, row height
• Modify cell border line style, width, color
• Add shading/background color to cells in a table
• Graphical Objects Insert an object: picture/image/chart/drawings in a table
• Select, copy, move object within/between documents
• Re size and delete an object
Module 5: Using Mail Merge in Microsoft Word
• Prepare a new document for Mail merge
• Select a mailing list, other data file
• Insert data fields in a mail merge new document (letter, address labels)
• Outputs Merge a mailing list with a letter, label document as a new file or printed output
• Print mail merge outputs
Module 6: Prepare Outputs
• Setup the document for printing
• Change document orientation: portrait, landscape
• Change size of paper: A4, A3
• Change margins of entire document
• Insert, delete a page break
• Add, edit text in headers, footers
• Add date, page number, file name in header, footer
• Apply automatic page numbering function
• Review the document and Print
• Add words to a built -in custom dictionary
• Preview a document before printing
Course Objectives
Pre-Requisites
Target Audience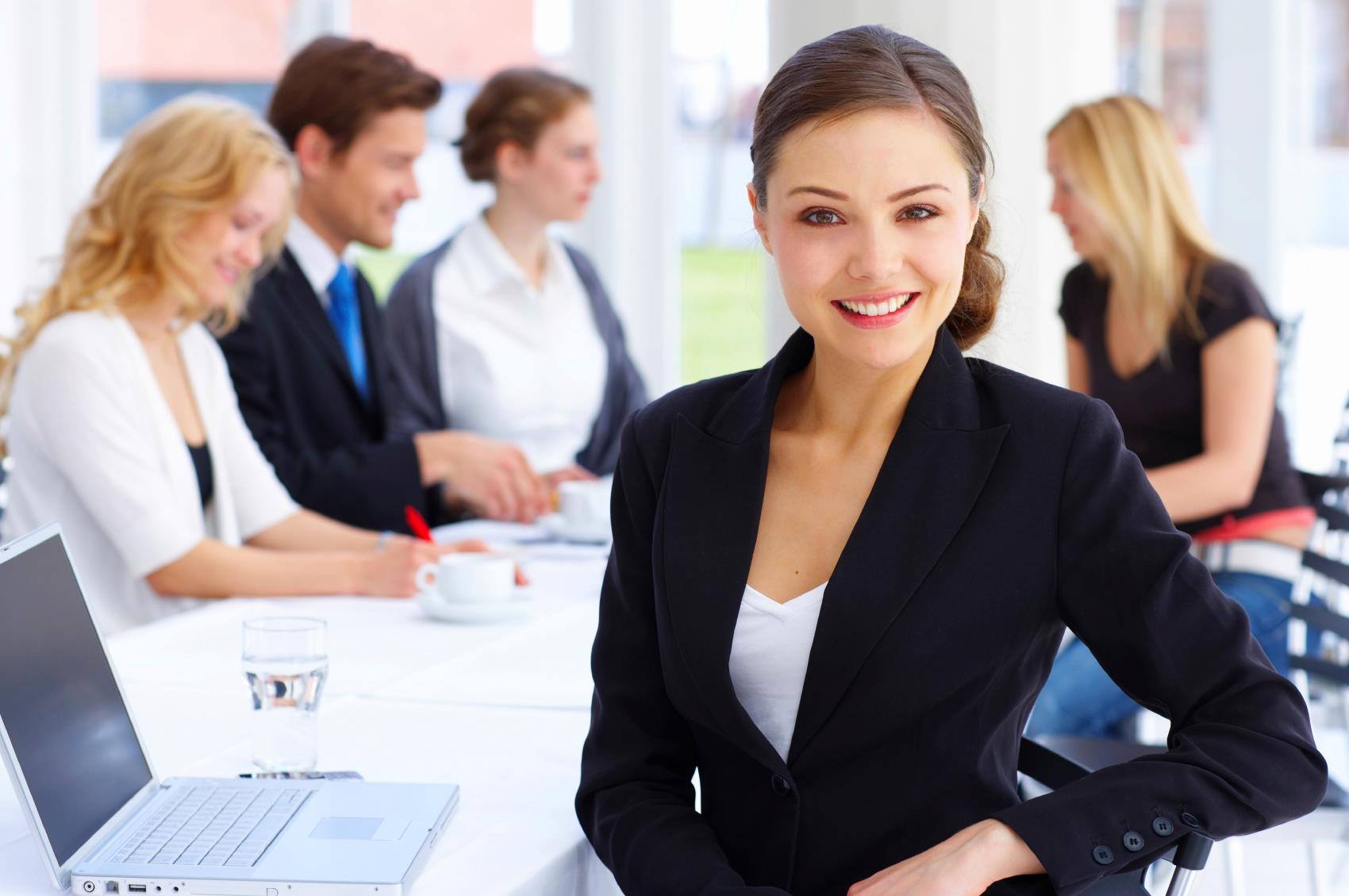 Claim SDF Grant
Companies sponsoring their staff for training can Claim SDF Funding, subject to SSG Eligibility Criteria.

Applicable for Company Sponsored Singaporeans & PRs.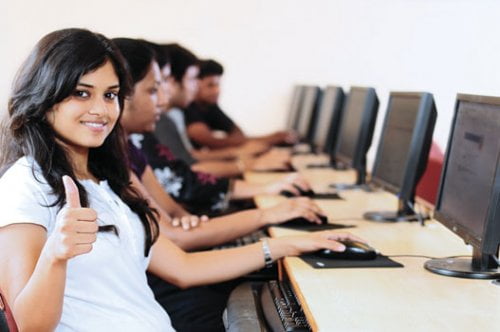 Learn By Doing
You learn best when you Do It Yourself.

We teach you, step by step, how you can learn new skills, build your knowledge and enhance your career prospects quickly & easily, with Practical Tips & Tricks!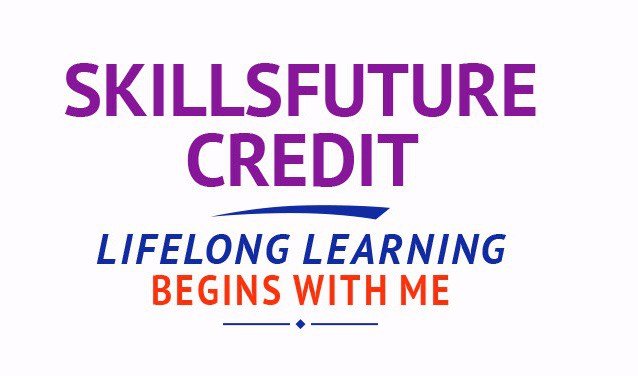 SkillsFuture Ready
Singaporeans can use $500 SkillsFuture Credits for this training to offset the course fees.

Contact us for advise on how to go about claiming your SkillsFuture.

Get Started Today!
How To Register For Basic-Intermediate Word Training in Singapore
Register for the 2 Days  Word Basic – Intermediate 2016 today by simply clicking on the chosen course date available at the top of this page.
Need Help?

Call us at +65 6250-3575, SMS / WhatsApp: +65 9066-9991

Submit an online enquiry if you have  any questions regarding Word Basic – Intermediate 2016 training.
We have regular public classes For Word Training and Corporate Training can be arranged at your office too!
Note: This class is a very practical, and hands-on workshop session. It requires you to take part in Word exercises during the class. A laptop with Word 2016 pre-loaded is provided to each participant for use during this workshop.
Join today, and begin to Master Word 2016 with our Step-by-step instructions, and helpful, patient, Microsoft Certified Trainers to guide you.
What are you waiting for? Get Started Right away…
Some of the companies that experienced our trainings





















Get Creative With Illustrator
&
Accelerate Your Career