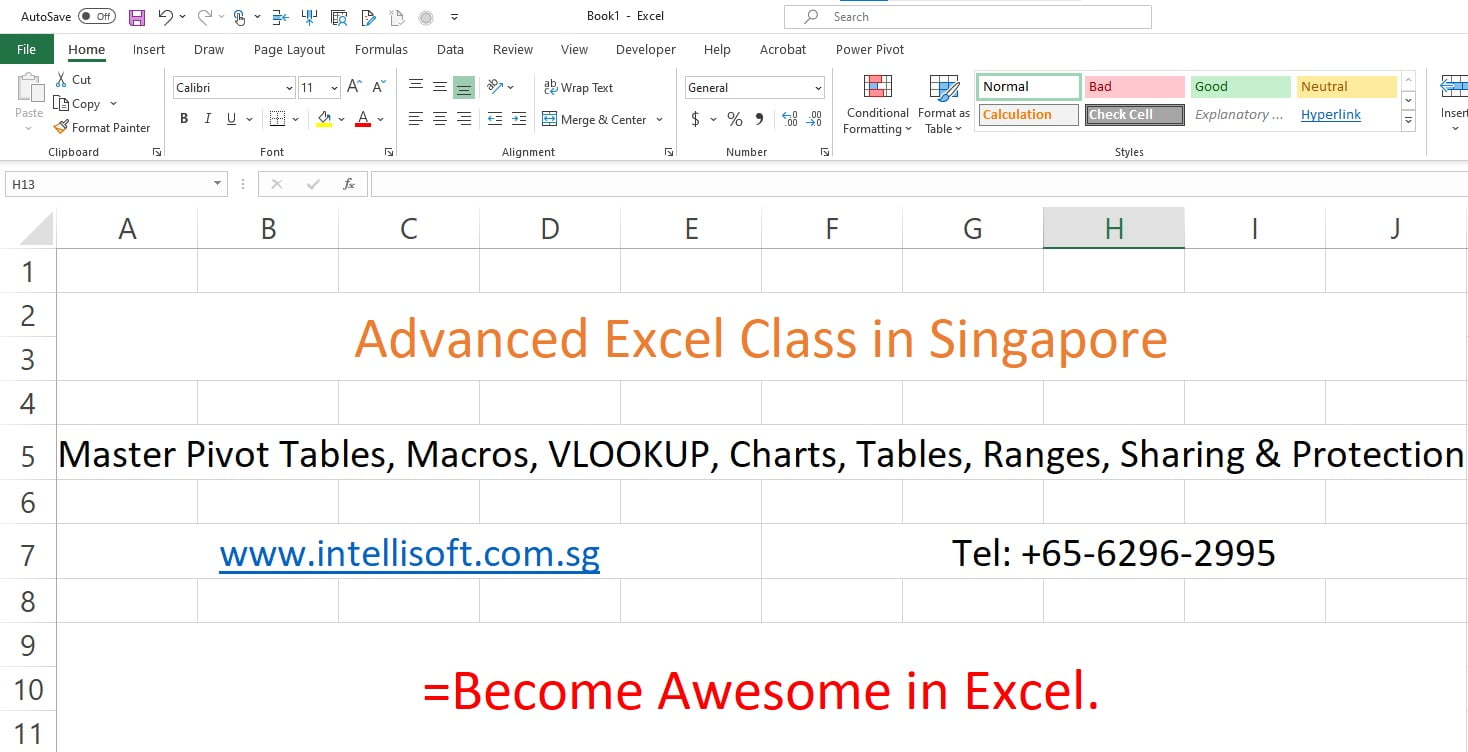 Advanced Excel course in Singapore is available at Intellisoft Systems.
Excel is a high-end spreadsheet software that is used in business. From simple data entry officers to analysts to managers, everyone loves to use Excel.
This is a higher end training, focusing on the Advanced Level of Microsoft Excel.
If you are new to Excel or have little experience in using Excel, you should first attend our Basic Excel Courses in Singapore. It is more suited to beginner and intermediate users, and will cover the basics of Microsoft Excel thoroughly.
You will then be able to do common tasks in Excel like write some simple functions in your daily work.
At the Advanced level, there are a range of courses available – ones that covers Pivot tables, Advanced Formulas of Excel, or focus on the Data analysis tools & capabilities within Excel to begin with.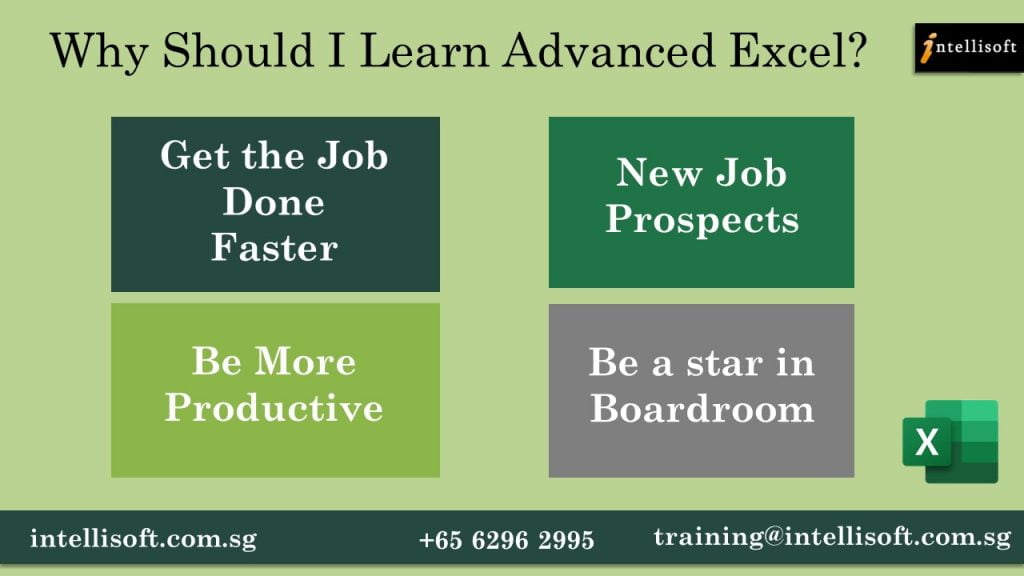 Intellisoft offers many advanced Excel training courses. T
o reach the Expert level, you must learn Excel VBA Programming, Excel Dashboarding Techniques, Using Power Query & Power Pivot add-ins of Excel, Advanced Formulas, Advanced Sorting, Advanced Filtering, and the ability to work with large data sets to handle big data.
At the Expert level, you will be looking to pick up business intelligence signals from the processing of data and using business analytics.
So you can see that Advanced Excel is really vast, and will help to take your skills to the next level. It may require you to take a few separate Excel courses to learn the full potential of the spreadsheet application that we all love to use – Excel.
There are numerous advantages of Excel. You must learn the advanced functions and features like pivot tables & macros early to make the most of it in your professional career or for your personal use .
What Advanced Features of Excel are covered in our Excel Training Course in Singapore?
The most important features of MS Excel are covered in depth. The course outlines these features like:
Advanced Excel Formulas,
Advanced Spreadsheet Functions,
Logical Functions
Date & Time Functions
Database Functions
Lookup Functions like VLOOKUP & HLOOKUP
Combine Formulas to Create More Powerful Functions
Pivot Tables for Summarizing Data Quickly,
Recording Basic Macros,
Conditional Formatting,
Custom Formatting
Creating & Using Range Names
Combining Data From Multiple Worksheets
Combining Data from Multiple Workbooks
Sharing Excel Files
Data Processing
Protecting Excel Workbooks
Creating Excel Charts & Customizing them
Creating & using Excel Templates
And numerous other useful Excel functions

Do You Know These Advanced Excel Tricks?
Who are your Trainers For Advanced Excel Course?
All our trainers are certified Microsoft certified Trainers with a wealth of experience in using and teaching Excel. They are all ACTA certified and love to share their knowledge and application skills to make you an expert in Advanced Excel skills. We go the extra mile to help you master the key essential skills of Excel in a short time.
If you would like to learn from a Microsoft certified trainer with years of experience to learn what works well in the office or for your personal work, you should join our Advanced Microsoft Excel Courses at Intellisoft.
You can be from any type of industry, and you'll still be able to learn numerous functions and formulas of Microsoft Excel and build your spreadsheet skills at your own pace. Whether you are a basic or advanced user, you will learn a ton of new techniques, shortcuts and tricks in Excel that will elevate your Excel skills to the next level.

What in Provided for the Advanced Excel Training at our Institute?
We provide you with
A laptop loaded with the correct version of Microsoft Excel for your use in our training room.
Advanced Excel Exercise Files will be provided too.
As part of the course materials provided, a detailed, step-by-step guidebook with Exercise files for Excel will be provided to each participant.
The included exercise files have cases from the business world as well as examples of how to use Excel for personal use. With this, your team will become expert excel users who can use the various tools, advanced excel functions and data management capabilities easily.
Pre-Requisites For The Training
In terms of pre-requisites for this Excel course, you don't need a bachelor degree or any diploma.
Anyone with good PC skills, some previous experience in using Excel, and a keen interest in learning the wide range of advanced functionalities of Excel can join this advanced training workshop.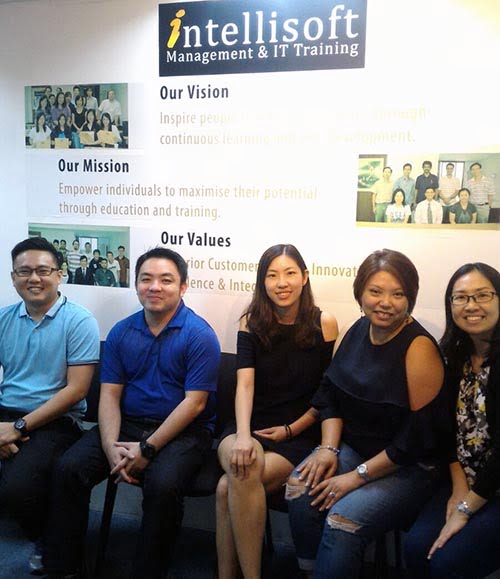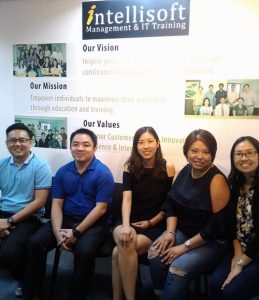 In a short period of just 2 days, you will be able to
use pivot tables,
formulas of excel,
advanced spreadsheet functions,
data analysis tools,
charting techniques,
conditional formatting,
Excel Reports
and much more.
You will be able to appreciate the full potential of Excel in everyday use at the office.
Whether you want to make simple or complex spreadsheets, you will have the skills. It does not matter which type of position or the type of industry you are targeting, Excel is used everywhere. So at the completion of this unit, you can call yourself an Advanced User of Excel, and you will have a certificate to prove it too.
Available Grants & Funding For Excel Training For Singaporeans & PRs
You can use SkillsFuture* or SDF Grants for company sponsored training courses where the course fees is partly sponsored by the Singapore government. The SSG Rules & Guidelines on eligibility apply.
With an affordable price, we can also arrange for corporate training for a group of participants at your company training rooms or you can attend the training at Intellisoft Training rooms too.
Our training facilities in the lab are top notch. We take care of of social distancing & government rules and regulations.
Intellisoft is considered the best Microsoft Excel training centre in Singapore.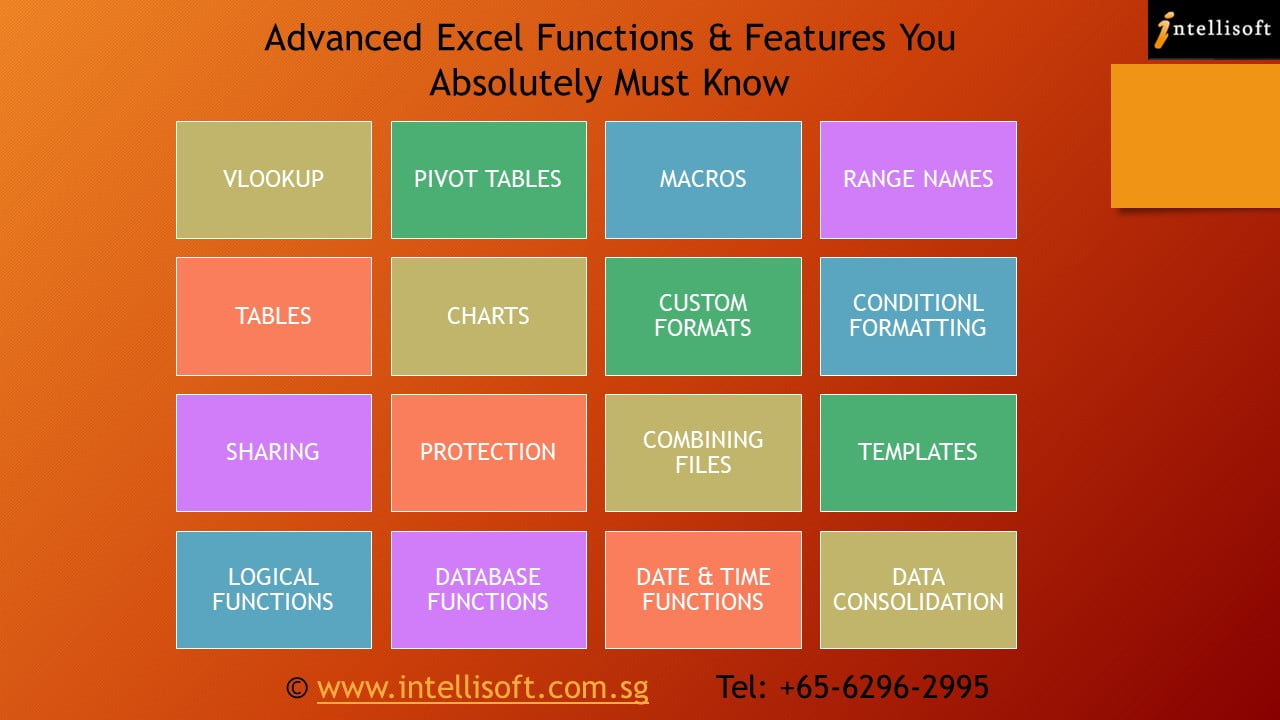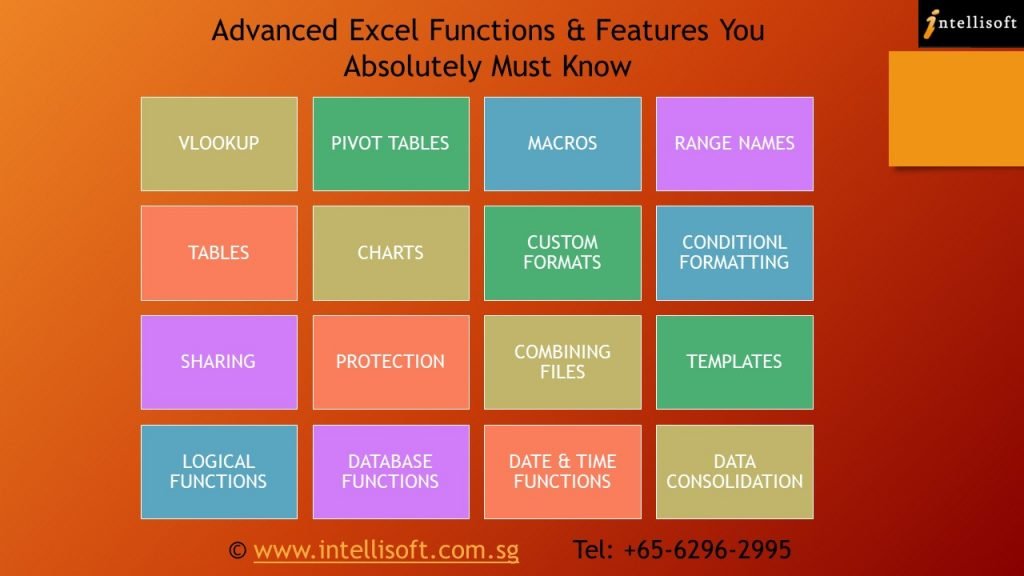 How To Join Advanced Excel Training Course in Singapore?
Prospective learners can contact our Training center at Fortune Centre and we can send you more precise information about the course. Request for a course brochure or Register for Advanced Excel training now.
You can then browse the outline of our Microsoft Excel Courses and pick the one that suits your needs the most. Our courses are short, practical and to the point. You will enjoy the training and become a better Excel user is no time.
Learn the most powerful spreadsheet program in the world… directly from the Microsoft Experts!
Join the Advanced Excel Course in Singapore at Intellisoft. We are waiting for you…
Cheers,
Vinai Prakash
Founder of Intellisoft Systems