What is Your Next Step After Learning Excel?
Wondering what to pursue after learning Excel? Let us find the answer. Before that, let's first read a quick short story.
Once upon a time, a very strong woodcutter asked for a job in a timber merchant. The pay was good and so were the working conditions. So, the woodcutter was determined to do his best.
His boss gave him an axe and showed him the area where he would work.
The first day, the woodcutter felled 18 trees.
"Congratulations," the boss said. "Go on that way!"
Motivated by the boss words, the woodcutter tried harder the next day, but he could only bring down 15 trees. However, the third day he tried even harder, but he could only manage 10 trees. Day after day, he finished with fewer trees.
"I must be losing my strength," the woodcutter thought. He went to the boss and apologized, saying that he is week and could not understand what was going on too.
"When was the last time you sharpened your axe?" the boss asked.
"Sharpen? But I've had no time to sharpen my axe. I have been so busy trying to cut trees…."
This story states that equipping yourself shouldn't ceases & sharpening the tool set & keep you updated is the only way to a long term success.
Now, why are we reading to this story?
Let me jump to the point directly.
The world is fast paced. So, we need to have the required tools ready & sharp for use. 
It is almost impossible to find work that does not require some amount of Excel. Having the right skills for using and applying Excel for Simple or Advanced tasks is a must.
Microsoft Excel is one of the most valuable skill sets that can take you far!
However, most of you already know & use Microsoft Excel quite well. Really glad to know that. Still, sometimes even experienced Excel experts miss out on the best features of Excel that seem to be hidden.
Is it Sufficient to know Excel well to prove yourself in this competitive world?
Are you ready for the Future?
Learning never ceases and you should keep updating you to keep you in par with the emerging industry and not becoming outdated.
You should grab other Skill set after finishing Microsoft Advanced Excel to keep growing in the Job Industry.
AVAILABLE OPTIONS AFTER MASTERING MICROSOFT EXCEL
Let us discuss the variety of options available in front of you to pursue using the Advanced Microsoft Excel Skills that open you up to various career prospects in addition to career growth.
ATTEND SQL WORKSHOP:
I am an Excel Expert. How do I get into Data Analysis?

I am an Analyst. But I always stand at the mercy of IT peers to query my Data!

Are you relating to these situations?
Let's talk about the first step you can take to resolve this.
Analysis comes into play only after you have the set of relevant information in your hand that are clean as well.
When you yourself can query data from the relational Database system & reorganize, then certainly you are independent, and you can control your own productivity & efficiency.
Learning the right tool to collect & organize your data can be a savior. If you don't know what is SQL & Why should you learn it, get yourself acquainted first.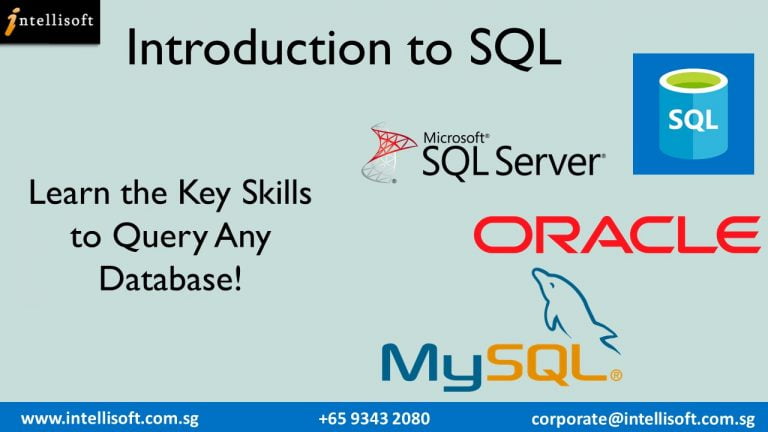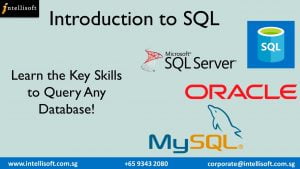 SQL could be the priority as it is an easy to learn, straight-forward programming language. It is a simple but popular program for Data Management.
Administering, updating, maintaining, and manipulating the database is easy with SQL.
With SQL you can – retrieve, analyze and report information quickly and efficiently.
Grab SQL Skills today to be an independent analyst otherwise make a new career as Data Analyst, Database Administrator, Data Scientists or even Data Architect at Intellisoft Singapore.

Join Excel VBA (Macro) Course:
I am an Excel expert. Do I only get to learn the skills that are into Data Analysis?

Well definitely not. As we have already discussed Excel is a program that is used in all the fields in which the Data Analysis is just a new popular.
Excel could be enhanced with further skill sets and utilized in various tasks as well.
One such skill set that is highly useful for people into leadership, or managerial position to review the work or report, or even for someone who is into repeating the functions, formulas, or a set of same steps dozens of times every day.
There is a boon to such people – Macros in Excel.
You can write & record macros for simple to complex steps that you accomplish every day. In addition to that, Macro Code runs much faster and save a huge amount of time, which in turn will increase productivity.
After all, you don't get bored of what you are doing every day.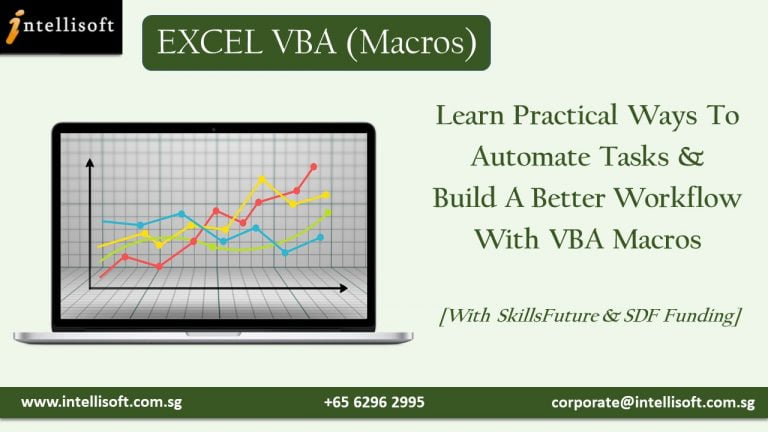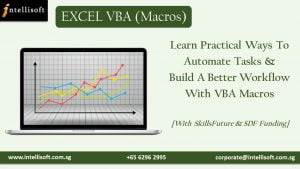 Looking to learn VBA (Macros) faster?
Join an Excel VBA (Macro) training at Intellisoft Singapore today to Learn practical ways to automate tasks & build a better workflow with VBA Macros and automation in your work.
Data Interpretation & Analysis with Excel:
Data Analysis is a cool and exciting career to get into. When you already are aware of the Excel tool kit, now it's time to learn the Techniques of Analyzing Data with Excel.
Data Analysis is a process of using logic & statistics to answer some of the business questions which consequently leads to decision-making.
You can learn to understand data and forecasting based on different criteria.
Charts & Modelling can be made using the Excel Features.
Correlation & regression techniques can be used to Analyze Data with different variables.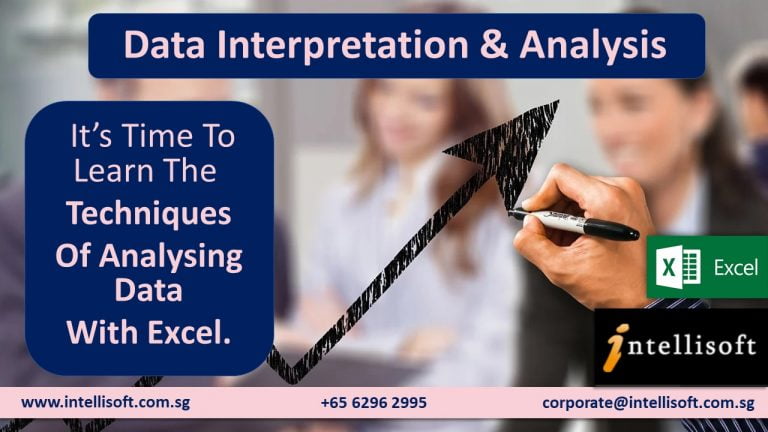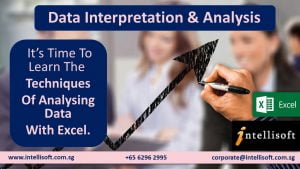 Above all, It is wise to grab the techniques of using the tool effectively, when you are an Excel Expert Already!

Wondering why you should learn Data Analysis? Check out the top 5 Cool Career Options that rely on Data Analysis
Also Join Intellisoft now to Grab Data Analysis Skills fast.
Create Interactive Management Reports & Dashboards with Excel:
A Dashboard is the dynamic reporting technique used in business data reporting.
If you can present a huge amount of critical data in a Visually Appealing, Dynamic & Interactive Chart in Excel, apparently the decisions are made faster & you are the star of the boardroom already!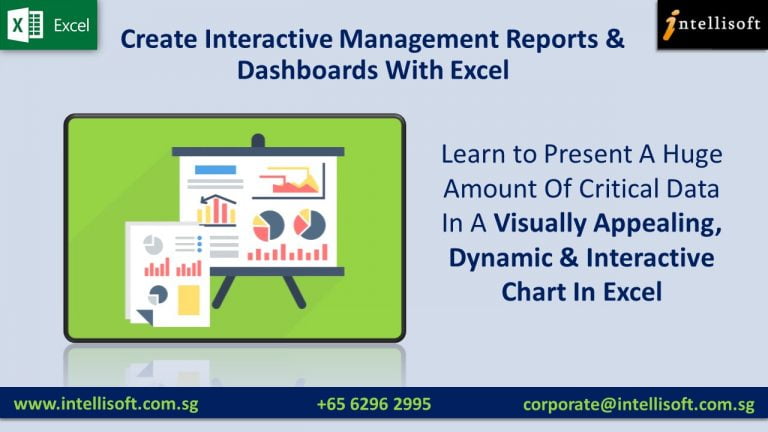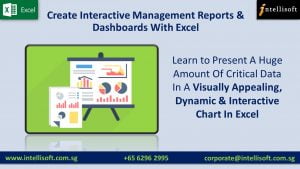 Why wasting time, learn Excel Dashboard & report metrics that matter!
Well, I hope that you now have a clear idea of  What can you do after learning Advanced Microsoft Excel!
Take a breath! Make time out of your calendar to learn the essential skills that matter!
Best of Luck!
Cheers,
Lavanya
Like us on Facebook, Follow us on Instagram & LinkedIn for more updates on Courses & Grants.