In today's world of information consumption, we are surrounded by media, and its never been more important than now to grab your audience's attention with high quality content.
Social media channels have made it easy for brands to increase customer engagement not just through text, but through photos, videos & info graphics.
Visual media are increasingly being used by marketers keen to connect with customers – and to have their messages amplified with likes, comments and shares. More products are moving to Instagram than ever.
Too many companies opt for a blanket coverage approach to social media. They share the same posts in the same way to all the channels, and then they question why their followers aren't engaging with their account.
There isn't a one fit solution to social media: each network has its own character and audience. To get the most out of social media channels, you need to create strong content – and then use it to start a conversation that is appropriate to that network.
One such trending social media is Instagram. It is a Photo Sharing medium which has entirely changed the way we interact with images and with the brands that post them. It currently has 130+ Million users, using the app every day.
Because of the Instagram's instant, on-the-go appeal, companies are using it to humanize their brands, with plenty of behind-the-scenes and more informal content, as well as encouraging user-generated content with great success.
Here are some quick tips for engaging on Instagram: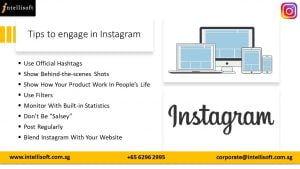 Build a community by putting your official hashtag in your banner heading for fans to know how to tag you.
Show the human side of your brand by mixing behind-the-scenes shots with customer, employee, and producer photos and videos.
Design and lifestyle are the big part of Instagram, so think how your product works in people lives.
Use filters creatively
You can find out more about your Instagram activity through their built-in statistics, so use them to inform your content as your profile evolves.
Don't be "Salsey" or use blatant product placement. Users of Instagram are media savvy, and they don't appreciate the community being used as a commercial.
Brands that are popular on Instagram are original and artistic, and they blend the use of Instagram into community building.
Post regularly & use the platform to show your take on current events, holidays & seasons.
Use specific hashtags for promotions. Don't use too many. Keep it simple.
Blend Instagram with your website for more interactive experience. Instead of simple product pictures you can ask customers to upload their photos and experiences.
Social Media marketing being the Trending form of Digital Marketing, is a skill to be mastered right now!
Intellisoft Offers you an Ultimate 2 Days Digital Marketing Workshop to improve the current Digital marketing activities & get you to leverage on existing content, new content generation, and ideas to maximize ROI from the Social Media Marketing.
Register Online now to get the most out of Digital Platforms.