Communication is made up of more than just the words we use. It is maintaining eye contact with the person you are talking to or your hand movements as you speak.
Nonverbal cues such as tone of voice, gestures, and posture all play their part.
Let us discuss on how we define what body language is, and how we can interpret it to understand and communicate with people more effectively.
Body language is the unspoken element of communication that reveals our true feelings and emotions.
Statistics say only 7% of a message is conveyed through words. The other 93% comes from body language.
It is taken from Mehrabian's Communication Model.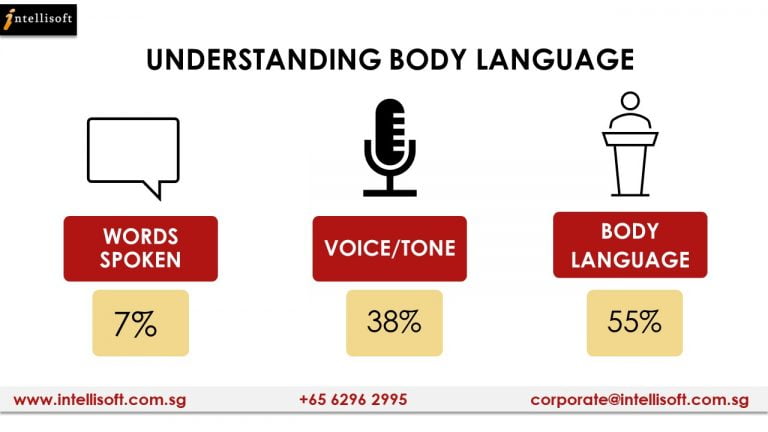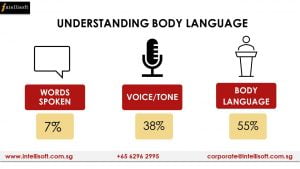 It states that body language is more important than tone of voice & choice of words when communicating true feelings.
Body language is the range of nonverbal signals that you use to communicate your feelings and intentions. These include your posture, facial expressions, and hand gestures.
Your ability to understand and interpret body language can help you to pick up on unspoken issues or negative feelings in others.
You can also use body language in a positive way to add strength to your verbal messages.
Body Language for a Good First Impression
If you are meeting someone for the first ever time & you want to make a good impression, Body Language is the Key.
Here are some Ideas:
Have an open posture.

Be relaxed, but do not slouch! Sit or stand upright and place your hands by your sides.
Avoid standing with your hands on your hips, as this can communicate aggression or a desire to dominate.

Use a firm handshake.

But do not get carried away! You do not want it to become awkward, aggressive, or painful for the other person.

Maintain good eye contact.

Try to hold the other person's gaze for a few seconds at a time. This will show them that you are sincere and engaged.
But avoid turning it into a staring contest!

Avoid touching your face.

If you do while answering questions, it can be seen as a sign of dishonesty.
While this isn't always the case, you should still avoid fiddling with your hair or scratching your nose, so that you convey trustworthiness.
These tips are a good general guide for interpreting body language. Reflect on how you use your body language – and avoid making assumptions!
Interpreting body language should be a complement to talking and listening attentively, not a replacement for it.
Got an outline of What body Language is & why is it mandatory for everyone to learn it?
Sounds great! Now to inculcate the ability to read and portray the right Body Language skills, Intellisoft is offering a one day course that is perfectly designed to teach a Positive, Professional and Self-Assured Attitude.
This course even covers how to read Body Language, Body Language Mistakes, Nonverbal Communication & Facial Expressions.
Why wait? Join Intellisoft's practical training now!
P.S. 50% of all employees will need Re-skilling by 2025, Soft skills like reading & understanding body language, Time Management Skills, Critical thinking and Problem-solving are the top key skills employers believe will grow in prominence in the next five years.
Make sure you are ready!