What is Power BI: Intro to the Most Powerful Visualization Tool from Microsoft
The world runs with Technology but ruled by Data. Learning to process, manage, analyze and present data can lead to a flourishing Career Path.
Becoming a Data Analyst is the new cool. Data analysis as a career path has a bright future and a variety of options become available to keep moving ahead in your career.
The Data Analyst career path starts from grabbing the right Skills. While it needs a basic knowledge of SQL for querying Data and Python fundamentals, it a very much mandatory to upgrade yourself with the Key Skills like Advanced Microsoft Excel and Power BI.
We all have heard of SQL, Python and Microsoft Excel, but you may not be familiar with Microsoft Power BI.
Let's find out What Power BI is, and How you can benefit from learning & using Power BI.
Why Microsoft PowerBI is Essential For Data Analysis?
Power BI is an intelligent software that is highly equipped to Analyze data and gain Insights quickly, without any fuss.
You can visualize data and create personalized reports & dashboards with KPIs that matter in your Business.
It is very popular among Data analysts because of the Speed, Accuracy, Consistency, and Security. You can set the report to refresh automatically, and inform the key stakeholders to view it on their i-Pads and Mobile phones.
The reports and insights can be collaborated effectively across all the different Software's like Excel, SalesForce, SharePoint, SAP, Oracle Database, and even Microsoft Teams. This allows the whole team to get involved in Data Driven decision making.
Extensive Connections & Flexibility in Power BI
Microsoft Power BI has a growing Library of 100+ connectors that comes for Free and connects it to various Cloud based platforms like SQL, Salesforce and SharePoint.
In Power BI Desktop, users can: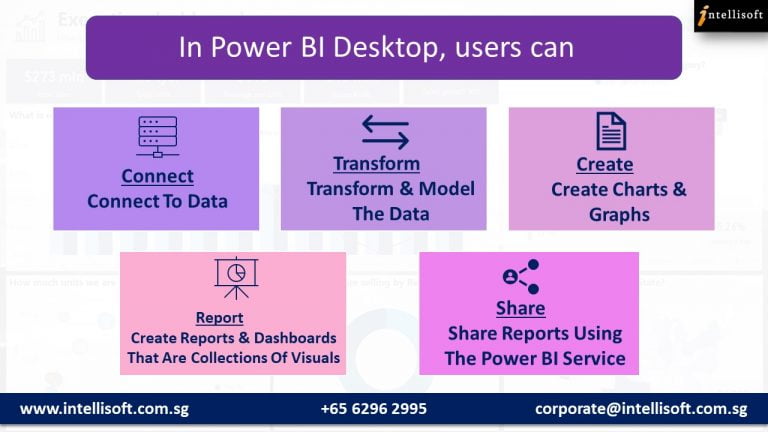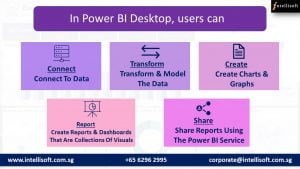 Connect to data
Transform and model the data
Create charts and graphs
Create reports and dashboards that are collections of visuals
Share reports with others using the Power BI service
What's covered in Power BI Training?
This PowerBI MasterClass teaches the skills a business analyst needs to know in order to successfully use Power BI, Write DAX Measures and Use Power Query to Clean and Load data.
The course starts out first by highlighting the key Advanced Excel functionality useful for data analysis, and then moves to Power BI tools. We cover Microsoft Power Query, Power Pivot & Power BI – all built into the new Power BI Desktop Application.
This Practical, Hands-on workshop covers:
Importing and creating relationships between tables of data.
Understanding the optimal data structure to use in PowerBI.
Writing basic Data Analysis eXpressions (DAX) formulas to extract business insights.
Then writing more advanced DAX formulas that use the power of DAX to extract additional business insights from the data that are not immediately obvious (yet are inherently available).
An introduction and overview of Power Query, how to use the tool to build data extraction and cleaning scripts, and why it is so great.
Helping Excel professionals move from being a normal user in Excel to being a Power BI analyst, covering the differences between the tools and how to start using Power BI Dashboards effectively.
You Can Learn Power BI in a Classroom Setting
Unlike the other Basic computing software's, Power BI should be learnt and mastered through a proper Training or a Master Class to make you understand the Power BI suite of products available from Microsoft, and be a Power Ninja in analyzing, visualizing & understanding Business Intelligence Reporting.
You should attend a Focused, instructor-led power packed program that make you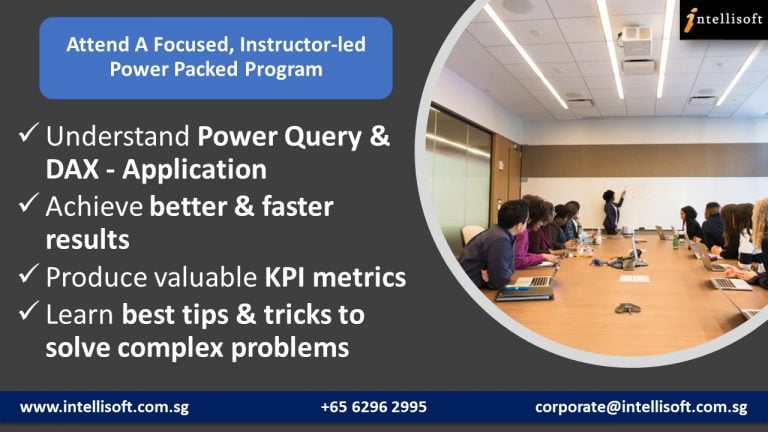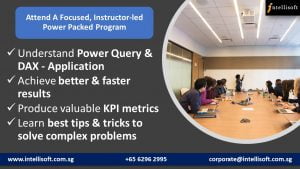 Understand Power Query & DAX, and how to apply it to your job.
Achieve better and faster results than with existing Microsoft tools.
Produce valuable KPI metrics for your business that never existed before.
Learn best tips & tricks to solve complex problems & create stunning work.
Where can I Attend Power BI Course in Singapore?
Intellisoft Systems offers you an intensive Power BI Training in Singapore for 2 days.
Our expert approach in this classroom training course makes it accessible to become an Excel Pro.
At the end of the 2 days, you will be well on you way to becoming a Power BI, Power Pivot and Power Query Ninja!
What are the Pre-Requisites to Learning Power Query, Power Pivot & Power BI
You can easily learn Power BI f you have Basic knowledge of Excel, and can write simple formulas like SUM, IF, Nested IF, and:
Note: Anyone with a Database, BI, Programming, or similar experience are quite qualified to take this course, even if lacking in Excel experience.
Thousands of people like you have attended our training & started analyzing data, in Sales, Customer Service, Finance, Logistics, HR, Business & other functions in no time.
Gain Valuable Insights by Visualizing Data Quickly!
Whether you work in Banking, Marine & Offshore, Telecom, Networking, IT, Manufacturing, Services, Government or Healthcare, you must tap on the Best and Most Useful software for Data Analysis & Business Intelligence – POWER BI.
Go Beyond Excel Pivot Tables, Learn Power BI now!
Where: Intellisoft Systems, Singapore

You can Register Online or contact us to block seats for you while you get internal approvals.
Companies Can Claim SDF Funding for sponsoring their SG/PR staff. Individual Singaporean can use their SkillsFuture Funds to offset the course fees.
Why wait? Join Intellisoft now! Please call or Email me to reserve your spot on this Power Pivot and Power BI for Excel Training Program.
Like us on Facebook, Follow us on Instagram and Do Check out our LinkedIn for more updates on the Courses & Grants!
P.S: Looking for cool Careers? Check out the Top 5 Cool Careers in the Job market!
Article Written by Vinai Prakash, MBA, PMP, GAP, ACTA Certified
Additional Resources for Power BI
Training Courses
Learn Microsoft Power BI Suite For Better Data Analysis & Reporting
Power BI Tips, Tricks & Video Tutorials
Power BI Tip #2: Reference Query Results in Another Query With Power Query [Video Tutorial]
Power BI Tip #6: Fixing The Vertical Axis in Power BI Visualisations